ALERT: ULM will not request your password via email. Do not send your password in an email. There are many email "scams" in which the sender requests your username, password or other private information be sent to them for seemingly legitimate purposes when in fact they are not.
All In One Place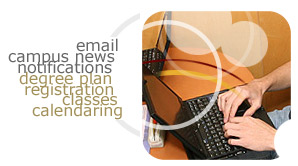 Banner, FlightPath, Moodle, campus email & more can all be found here!
Use myULM to access and manage your campus accounts. MyULM creates a single log in to access multiple systems, one username and one password. Additionally, you will have access to campus notifications, news feeds and other features. Preview your email, view the ULM daily calendar or your own personal calendar. The myULM interface can be customized, so you can add or remove elements, subscribe to a new feed (such as ULM athletics), or manage your SPAM filter. More features and tools will be added to make your experience even better and keep you informed!

Log In
Log in to myULM using your email username and password. Your username is the first part of your campus email address (example:username@warhawks.ulm.edu or username@ulm.edu).
Don't know your campus email address? Click the "Help" tab above for further instructions.

Wifi Access
Need help connecting to ULM Wifi? For Windows 10: See step-by-step instructions here.
For iOS and Android : See detailed instructions here.

Assistance
Your myULM experience is important to us! If you are experiencing problems, or need help logging in, please contact the ULM Help Desk: (318) 342-3333 or email: helpdesk@ulm.edu. Thank you!
Use Policy/Responsibility
The site, myULM (my.ulm.edu), is a ULM campus system. See the ULM Acceptable Use Policy.