Wreath Making Course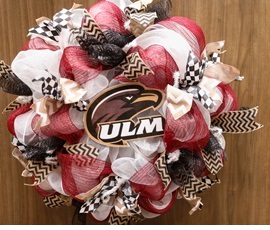 Wreath Making Course
Have you driven through neighborhoods and admired other house's beautiful wreaths? Are you interested in learning how to make your own fabulous wreath, for any occasion? In this beginner's class Instructor Kenyata Ellis will teach you mesh shaping, cutting techniques, embellishment placement, and more, that will make your wreath the neighborhood envy. These classes are fun, and will fill up fast, so register early to make sure you get to be a part of it! Don't miss out!
About the Instructor:
Ms. Kenyata Ellis has over 10 years' experience in general and custom wreath making. She is the official wreath maker for the 2019 Monroe Police Department Memorial. She has crafted, created, sold and shipped custom wreaths to clients in Louisiana, California, Texas, North Carolina, Alabama, Mississippi, Arkansas, and Illinois.
***Final Date to Register for March 6, 2021***
Would you like to be notified about the next opportunity to participate in this offering?