Wow, What a Great Event!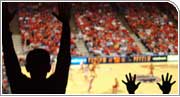 Wow, What a Great Event!
Looking for a fun new career coordinating special events? Learn proven techniques from a master event planner.
Are you planning a special event and could use some helpful advice? Considering event planning as a future career? Curious about what other event planners are doing? Need new ideas and resources? Wow, What a Great Event! is an event planning course that's made for you.
This course reveals how all the pieces in the event planning process fit together to make any size or type of event successful, whether it's for your family or friends, your employer, or your favorite charity. It helps you avoid common pitfalls, embarrassing errors, and costly mistakes. It provides you with a solid educational foundation in event planning that will impress your current boss or future employers. And if you're a very experienced planner just looking for a few ideas, it presents you with exceptional resources you probably didn't know existed and can use in your own business.
Each lesson covers a completely new topic, every one important to planning a successful event. You'll learn about themes, venues, menus, entertainment, décor, and much, much more. You will develop skills, find resources, and gain confidence to plan any event. You'll discover proven tips, tools, techniques, and procedures that will make event planning easier for you. You'll gain access to event industry information compiled by and for event industry professionals.
We even point you in the right direction to meet other event and meeting planners and to join a professional association or industry group. You'll be so excited with your newly gained confidence and expertise that you'll want to start planning your next event even before this course is over.
Course Revised September 2015
For more information, please CLICK here.
If you wish to enroll in this class, follow these steps:
1. Follow the link above to the ed2go web site.
2. Click on the "Enroll Now" button on the right side of the course web page and follow the directions.
3. Pay for the class by clicking on the register button below or call us at (318) 342-1030.
If you have questions or need help with registration, please call us at (318) 342-1030.
Would you like to be notified about the next opportunity to participate in this offering?