West Coast Swing Dance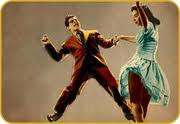 West Coast Swing Dance
Come feel the excitement and relive the West Coast Swing Dance craze!
West Coast Swing is a smooth style of partner dance. It is sophisticated, dynamic, playful, fun and can be danced to a wide range of music including top 40's, R&B and Blues.
With the focus on technique, improvisation and musical interpretation, West Coast Swing is ideal for people of all levels, from beginners who have never danced before to the experienced dancer looking for a new challenge.
Our classes are very social and a great way to meet people and get fit.
Couples are encouraged, but not necessary for registration.
**PARKING-SEE INSTRUCTOR FOR TEMPORARY PERMIT
Currently there is no scheduled course offering.
Would you like to be notified about the next opportunity to participate in this offering?