Veterinary Office Manager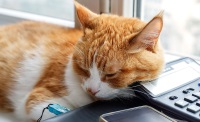 Veterinary Office Manager
Do you love animals? Have you ever thought about a career as a veterinary assistant? Taught by a practicing veterinarian and college instructor, this intensive program provides the information you need to work with animals in a veterinary hospital.
You'll first study the major organ systems that you'll need to know about as a veterinary assistant. Next, you'll move to front office duties so you can see how to work with clients and handle medical records. You'll also delve into the communication skills that come in handy for the assistant. Then the program moves to the area you're probably most interested in—the back of the hospital. You'll see how to restrain animals for procedures, take their vital signs (temperature, pulse, and respiration rate), trim their nails, and properly bathe them. You'll also gain the expertise you need to educate clients about key topics in pet care, such as nutrition, vaccinations, and administering medication. The program also shows you how you can be an asset during surgery and dental procedures by monitoring heart rate and breathing, passing instruments to the surgeon, and charting teeth. You'll learn how to prepare prescriptions, take blood samples, perform laboratory tests, and take radiographs.
This program will also prepare you to handle the bookkeeping for a veterinary practice by teaching you how to use QuickBooks 2017. This program is divided into three main sections. The first section addresses bookkeeping and accounting concepts, including illustrations of how QuickBooks incorporates these concepts. The second section introduces QuickBooks in more detail and introduces basic concepts and functionality. The third section addresses intermediate QuickBooks concepts and functionality.
Prepares You For...
Careers
Veterinary Office Manager
Veterinary Practice Manager
Veterinary Hospital Manager
Microsoft Office skills are important skills to have in any profession or workplace. Being able to work with Office programs is a must in today's workplace, you will learn essential introductory and advanced Office skills in Microsoft Word and Excel 2016 programs. You will be prepared for the Microsoft Office Specialist Certification exams 77-727 and 77-728 (Excel) and 77-725 and 77-726 (Word), the fees for these exams are included in this program.
This program is entirely online and is completed at your own pace. When you register, you receive eighteen (18) months to complete this program.
For more information or to register please

CLICK

here or call our office at 318-342-1030.
Would you like to be notified about the next opportunity to participate in this offering?