Swing Dance-The Oldest Form of Social Media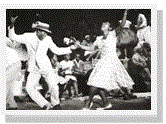 Swing Dance-The Oldest Form of Social Media
Duke Ellington said it best, "It don't mean a thing if it ain't got that swing."
Whether you're looking to stay physically active, meet new people, or just want to survive that next wedding with your dignity intact, look no further. Swing Dance classes at ULM are the best place to meet new friends.
Would you like to be notified about the next opportunity to participate in this offering?