Professional Bookkeeping with QuickBooks 2015, Software Included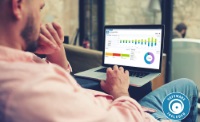 Professional Bookkeeping with QuickBooks 2015, Software Included
Engage in this course if you want to jump-start your bookkeeping career or if you just want to learn accounting methods to compliment your skill-set and your resume.
Complete work in this program that will prepare you to handle bookkeeping for a small business. Learn how to use QuickBooks 2015, the leading small business financial software program.
Master skills including:
Performing basic bookkeeping equations
Setting up QuickBooks
Entering data accurately
Managing bookkeeping
Using double-entry accounting
Understanding the impacts of debits and credits for all account types
This program not only teaches you proficiency with QuickBooks 2015 software, it also teaches you to master everything from basic accounting to double-entry bookkeeping. Hands-on activities help you learn skills like planning a budget, managing a payroll, and handling accounts receivable and accounts payable. In addition, the program makes you aware of the legal standards that apply to accounting methods, giving you the proper credentials you need to practice bookkeeping with confidence.
Upon registering, you are given six months to complete this program.
For more information or to register for this class please

CLICK

here or call our office at (318) 342-1030.
Would you like to be notified about the next opportunity to participate in this offering?