Physical Therapy Aide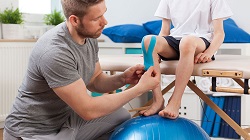 Physical Therapy Aide
In this online course, you will master all the skills you need to begin a career as a physical therapy aide.
You will learn what physical therapy entails, identify the responsibilities of a PT aide, and develop a working knowledge of anatomy and medical terminology.
In addition, you will get a solid grounding in patient care skills, infection control, and the legal and ethical regulations that affect healthcare providers. By the end of the course, you will be fully prepared to obtain an entry-level position as a PT aide in a healthcare facility.
To register for this class:
1. Click the following link: www.ed2go.com/ulm.
2. Click on the "Add to Cart" button on the right side of the course web page and follow the directions.
To pay for this course:
1. Click on the register button below or call us at (318) 342-1030.
Would you like to be notified about the next opportunity to participate in this offering?