Online Local Anesthesia Course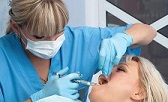 Online Local Anesthesia Course
DHYG 4033 - Local Anesthesia and Pain Control course for licensed dental hygienists
This online course is designed to instruct students in the art and science of local anesthesia. The course encompasses pre-anesthetic evaluation of the patient, management of the medically compromised patient, physiology and pharmacology of local anesthetics, and the management of medical emergencies.
The course consists of 24 didactic hours (8 weeks) online study and 8 hours of clinical practice. The student will be expected to come to ULM for clinical portion.
August Online Didactic Portion: August 23-Oct. 16, 2021; Clincial Portion: Saturday, October 16, 2021
January Online Didactic Portion: January 3-February 19, 2022; Clincial Portion: Saturday, February 19, 2022
March Online Didactic Portion: March 21-May 7, 2022 Clincial Portion: Saturday, May 7, 2022
Required textbook:
Bassett, K.; DiMarco, A.; and Naughton, D. Local Anesthesia for Dental Professionals Pearson, 2015, 2nd edition ( ISBN # 9780133077711)
Fee: $1200.00 for the course.
Attire: Please wear scrubs, closed toe shoes, and lab jacket. Bring safety glasses. All necessary materials are provided for lab.
Would you like to be notified about the next opportunity to participate in this offering?