Online Local Anesthesia Course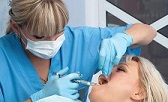 Online Local Anesthesia Course
DHYG 4033 - Local Anesthesia and Pain Control course for licensed dental hygienists
This online course is designed to instruct students in the art and science of local anesthesia. The course encompasses pre-anesthetic evaluation of the patient, management of the medically compromised patient, physiology and pharmacology of local anesthetics, and the management of medical emergencies.
The course consists of 16 didactic hours (8 weeks) online study and 8 hours of clinical practice. The student will be expected to come to ULM on Friday, August 4th from 1:00pm- 5:00pm and again on Saturday, August 5th from 9:00 am to 1:00 pm to practice local anesthesia clinically.
Required textbook:
Bassett, K.; DiMarco, A.; and Naughton, D. Local Anesthesia for Dental Professionals Pearson, 2010 ( ISBN # 978-0-13-158930-8)
Fee: $1200.00 for the course.
Attire: Please wear scrubs, closed toe shoes, and lab jacket. Bring safety glasses. All necessary materials are provided for lab.
This course is offered on a need basis. If you are interested in taking this course, please be sure to add yourself to our waiting list. We check it often!
Would you like to be notified about the next opportunity to participate in this offering?