Nutrition and Health Bundle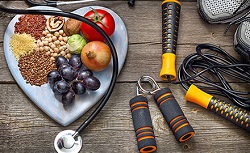 Nutrition and Health Bundle
Food and nutrition have a profound impact on our health and well-being, yet many of us are not aware of what foods to eat, which diets are healthy, and where our food originates.
Certificate in Food, Nutrition, and Health
The goal of this certificate program is to provide a holistic overview of current food and nutrition issues and their impact on physical, social, emotional, and spiritual health.
Throughout this certificate, you'll become more conscious of what we eat, why we eat it, how it is prepared, and what consequences our food choices have on our health as well as the health of our planet. You'll examine the impact of stress on the body and the health crisis posed by obesity in the U.S. You'll also learn how we can change our eating habits for more healthful outcomes, including swapping processed sugar for other sweeteners, adding probiotics to the diet, and harnessing the healing effect of herbs.
Ultimately, you'll gain insight into how food interacts with our bodies on multiple levels—physical, mental-emotional, and spiritual—as well as the impact it has globally. This certificate is designed for individuals who are working in the health care field and those who are interested in the topic.
Certificate in Nutrition, Chronic Disease, and Health Promotion
In this certificate program, you'll gain an understanding the role food and water play in health, and see how making appropriate changes in one's diet can have powerful effects on health throughout life.
You'll examine how the burden of chronic diseases is rapidly increasing worldwide as traditional, largely plant-based diets are being replaced by high-fat, energy-dense diets with a substantial content of animal-based foods.
You'll also explore the relationship between nutrition and disease. Consumers and health-care providers alike must understand this relationship so they can choose quality foods that support optimal health.
This certificate addresses these issues and more and provides a solid foundation of for both health care professionals and those wishing to enter the fields of nutrition, health promotion, and lifestyle and wellness coaching.
Would you like to be notified about the next opportunity to participate in this offering?