Mommy and Me Sign Language Course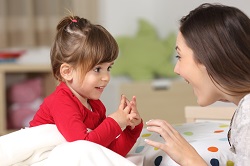 Mommy and Me Sign Language Course
Build your toddler's language skills!
Engage your toddler's brain in a new way with Sign Language! ULM is offering a fun and playful setting with interactive games and activities that will enhance their cognitive and emotional development. This course is designed for parents with toddlers ranging one to three years of age.
Course Topics:
ABC's with visuals
Colors and shapes
Days of the week
Taking care of me
Life together
Family
Community Helpers
Manners
Places We Go
Requirements: yoga mat to sit on with toddler during class
Would you like to be notified about the next opportunity to participate in this offering?