Middle School MBA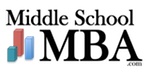 Middle School MBA
Calling all Future Business Leaders!
***Masks Are Required***
July 19 to July 30 *Two Weeks* (Grades 6-8)
One Session: 9:00am-12:00pm
If you have young entrepreneurs in your life, then Middle School MBA is the camp for them! Designed for middle schoolers, Middle School MBA covers masters' level business concepts in a fun and interactive way. In this two-week camp, campers will learn about the structure and evolution of economics, supply and demand, investing, head to head negotiation, trade, opportunity cost, payback, capital, and much more. So, if your child is a future board member or YouTube influencer, click the link below and register today!
Drop off begins 10 minutes before camp begins. Pickup is promptly when camp ends. Your camper must be signed in and out each day in Hanna Hall Rm 346. You may send a small PEANUT FREE snack and drink each day if your child would like one.
Please print and complete the Parent Consent Release form below & the online Data Form.
Would you like to be notified about the next opportunity to participate in this offering?