Medical Office Basics Suite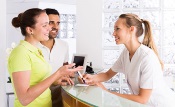 Medical Office Basics Suite
Whether you're new to the field of medicine or want to enhance your skills, this is the course for you. .
Medical Terminology: A Word Association Approach
This course teaches medical terminology from an anatomical approach. Root terms are divided by each body system. The origin, a combined form, and an example of non-medical everyday usage is provided for each root term. Word Associations are provided as a learning tool. Unusual and interesting information is provided in regards to each term. Root terms are combined with prefixes and suffixes as your learning will culminate in the interpretation of several paragraphs of medical notes.
Spanish for Medical Professionals
Are you struggling to communicate with your Spanish-speaking patients? If so, here's the perfect solution. Whether you're new to the Spanish language or just want a refresher, this fun and simple course will give you the basic tools you need to bridge the communication gap.
With increasing numbers of Spanish-speaking patients entering the healthcare system every year, it's more crucial than ever for health professionals to learn medical Spanish. What's more, adding Spanish skills to your résumé can broaden your career horizons. But you're a busy person, and you don't have time to waste—so this course skips the "touristy" topics and focuses on the survival Spanish medical personnel really need to know in a medical setting.
Starting with the basics of Spanish pronunciation, you'll move right into simple words for everyday topics including colors, numbers, conversational phrases, family names, and words for asking questions. Next, you'll get to the meat of the course as you discover how to ask about pain, symptoms, medical histories, insurance, and patients' feelings. You'll also learn how to talk about body parts, diets, and medical care and treatment. Along the way, entertaining games and stories will help you practice your new vocabulary as you gain awareness about Latin American culture.
By the end of this course, you'll have a strong foundation in basic medical Spanish that you can build on for years to come. ¡Vamos! (Let's go!)
HIPAA Compliance
Are you a health care professional or considering a career in the health care industry? Do you provide products or services to a health care organization? If the answer to either of these questions is yes, then it's mandatory that you understand the compliance requirements of HIPAA, and subsequent rules and laws (through March 31, 2014) that affect HIPAA, includingARRA/HITECH, the Affordable Care Act (ACA), Administrative Simplification Compliance Act (ASCA), the Patient Safety and Quality Improvement Act (PSQIA), and the OMNIBUS rules. These laws require all health care professionals to take careful steps to protect protected health information (PHI). But what exactly do all these regulations require?
In this course, we'll demystify the compliance process. We'll focus specifically on the Administrative Simplification portion of HIPAA, starting by defining the lingo of HIPAA, ARRA/HITECH, ASCA, ACA, and the OMNIBUS rules. While we're at it, we'll identify all the important players.
Next, we'll zero in on the Administrative Simplification rules of HIPAA, starting with transactions, code sets, and identifiers, which are all key elements in the HIPAA-mandated electronic health care transmissions.
We'll use real-world examples to help explain the Privacy Rule, which governs patient rights and disclosure of protected health information (PHI), We'll explain what's meant by covered entities (CE), business associates (BA), and many other relationships within the health care industry impacted by HIPAA.
Since computers are an integral part of health care these days, we'll see how they fit into the Security Rule. We'll also examine administrative safeguards, physical safeguards, technical safeguards, and policy and procedure creation—all of which are crucial components of the Security Rule.
Last, but not least, we'll focus on the Office for Civil Rights (OCR), HIPAA's watchdog organization, and learn about the civil and criminal penalties for non-compliance.
By the time you finish this course, you'll be confident and capable of implementing HIPAA's Administrative Simplification rules, and the laws impacting it, in your own organization. If you're just starting your career in the health care field, you'll have a priceless addition to your resume.
Medical Math
Master medical calculations in an engaging environment! In these fun and practical lessons, you'll gain the medical math skills you need for anything from calculating dosages to using scientific formulas. Whatever medical field you're in, the hands-on activities in this course will help you perform day-to-day math tasks quickly and easily.
First, you'll brush up your basic math skills. You'll begin with a review of fractions, decimals, and percentages, and then dive into measurement systems and conversions used in the medical field.
Next, you'll do dosage calculations for oral, parenteral, and intravenous medications. You'll explore three different methods you can use for dosage calculations: proportions, dimensional analysis, and the formula method. You'll also learn an easy formula that you can apply to many dosage calculations.
Finally, you'll get an introduction to basic statistics and probability. You'll find out how to interpret the latest medical findings for your patients, and journal articles will no longer be a mystery!
Save $151!
For more information or to register please CLICK HERE or call our office at (318) 342-1030.
Would you like to be notified about the next opportunity to participate in this offering?