Makeup 101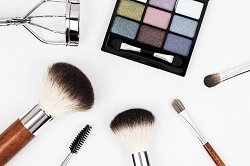 Makeup 101
Longing to acheive a flawless, beautiful look? Then, skip the Youtube tutorials and join us for a hands-on experience with professional makeup artist Mrs. Meka Bennett.
In this class, Mrs. Bennett will teach the techniques and tricks of her trade. With the assistance of a live model, she will demonstrate how to achieve a flawless, finished look and then give you an opportunity to re-create the look, using your own makeup! During this hands-on experience, you will have the benefit of Ms. Bennett expertise as she offers one-on-one assistance and guides you through the process.
Topics Overview:
Skin Prep
Foundation and Concealer
Highlight/contour
Eyeshadow Placement
Eyebrows
Eyelashes
Supply List:
Lighted Beauty Mirror with stand
Makeup wipes, beauty blender (optional)
Foundation, concealer, setting powder, eyeshadow, eyebrow pencil, blush, bronzer, mascara, tweezers, lash curlers, brushes, moisturizer, face primer, lashes and glue, lip pencil, lipstick, and lipgloss
Additional supplies will be on-hand if needed.
Two Sessions, $85 per session:
Glamour/Special Event Makeup: Say it with Ya Face! In this session, Ms. Bennett will help you absolutely slay your special event with glamorous, eye-catching makeup.
Saturday,September 29,1:00PM-4:00PM
Day & Night Makeup: Work Hard, Play Beautiful! Allow Ms. Bennett to show you how to create a look perfect for the office and then convert that same look to date-night readiness with just a few strokes of the makeup brush.
Saturday, December 1,1:00PM-4:00PM
Would you like to be notified about the next opportunity to participate in this offering?