Hybrid Phlebotomy Technician Certification Course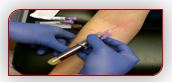 Hybrid Phlebotomy Technician Certification Course
Course goal is to prepare individuals for jobs in the healthcare field. Students successfully completing program are eligible to take PHLEBOTOMY certification exam.
PHLEBOTOMY TECHNICIAN
What is a Phlebotomist?
Phlebotomists provide a valuable service to patients and their physicians by collecting blood specimens for laboratory testing. This makes phlebotomists important members of the laboratory testing process. Because phlebotomy is the most commonly performed medical procedure, the outlook for employment is strong and the demand for Certified Phlebotomists is high. Many phlebotomists use their position in healthcare as a springboard to related medical professions.
Our Hybrid Phlebotomy Technician certification program is designed to teach entry level phlebotomy skills to students interested in pursuing a career in Phlebotomy. This program contains a six-week ONLINE didactic portion,and a two-week clinical portion.
It includes a comprehensive curriculum that will prepare the novice Phlebotomy student for the ethical, theoretical and technical knowledge required to become a competent Phlebotomist. Students will complete lectures and hands-on training in the clinical laboratory setting using Phlebotomy simulation models and specialized training equipment. Satisfactory completion of both the classroom and laboratory portions of the course is required. Upon satisfactory completion of the course, the student will be eligible to take a National Board Certification Exam through the American Certification Agency for Healthcare Professionals.
This course also includes Basic Life Support (BLS) Certification through the American Heart Association.
*ULM may cancel a class before the start date due to low enrollment.*
Cost $1150.00
Students successfully completing the program will be proficient in:
collecting, transporting, handling and processing blood specimens for analysis;
recognizing the importance of specimen collection in the overall patient care system;
relating the anatomy and physiology of body systems and anatomic terminology to the major areas of the clinical laboratory, and to general pathologic conditions associated with body systems;
identifying and selecting equipment, supplies and additives used in blood collection;
recognizing factors that affect specimen collection procedures and test results, and taking appropriate actions within predetermined limits, when applicable;
recognizing and adhering to infection control and safety policies and procedures;
monitoring quality control within predetermined limits;
recognizing the various components of the health care delivery system;
recognizing the responsibilities of other laboratory and health care personnel and interacting with them with respect for their jobs and patient care;
demonstrating professional conduct, stress management, interpersonal and communication skills with patients, peers and other health care personnel and with the public;
demonstrating an understanding of requisitioning and the legal implications of their work environment;
applying basic principles in learning new techniques and procedures;
recognizing and acting upon individual needs for continuing education as a function of growth and maintenance of professional competence
Occupational Employment and Wages- Phlebotomy Tech
Instructor:
Sherry Hinton,
Owner/CEO of Stick-It Phlebotomy
Requirements for enrollment include:
Complete application and mail to address below. (See link below for application download.)
University of LA Monroe
700 University Avenue
ULIB 109
Monroe, LA 71209
*Please visit Room 109 of the University Library to pay or apply in person.
Provide proof of negative TB test in last six months
High School Diploma or GED
State Criminal History Background check
Shot record that shows MMR shot and Tetanus shot within the last 10 years (for clinicals)
Flu shot (for clinicals)
Please visit your local Workforce Commission offices or Career Solution Centers to inquire about WIOA grant opportunities that may qualify you to receive funding for Phlebotomy training. For more infomration, please contact the Ouachita Business and & Career Solutions Center at 318-362-3058
*Exam candidates must currently possess a high school diploma or GED or acquire such within 12 months of exam to retain certification.
Would you like to be notified about the next opportunity to participate in this offering?