Grant Writing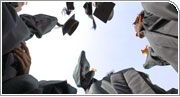 Grant Writing
This nationally recognized Grant Writing online certificate program is perfect for anyone seeking to learn the essentials in writing or acquiring grants.
If you want to learn the essentials of writing or acquiring grants for private, public, or government use, this program is perfect for you. You'll discover how to develop successful grants by focusing on the skills needed to prepare professional, competitive, compelling grant proposals. An experienced grant writer will show you how to create proposals that get funded.
By completing the Grant Writing Online Training Program, you'll:
Know how to research and find available grants
Understand the fundamental elements of a grant proposal
Develop the skills needed to prepare professional, competitive, compelling, and successful grant proposals
Become proficient in the proposal format used by the vast majority of public foundations
Know the roles and responsibilities of a non-profit board of directors and the management team
Become knowledgeable on the fundamentals of legal writing, including analytical reasoning and analysis
Learn how to word, edit, proofread, and format basic documents for daily use within an office environment
Learn the fundamentals of the budgeting process including how to prepare a budget and manage a budget in a business
Examine the essential aspects of fundraising and how to maximize fundraising opportunities
Upon registering, you're given an initial six months to complete this program.
For more information please CLICK here or call our office at 318-342-1030.
Would you like to be notified about the next opportunity to participate in this offering?