EXCEL 2016 - Level 1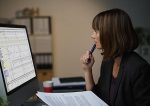 EXCEL 2016 - Level 1
Boost your effectiveness in the workplace by learning the basics of Excel spreadsheets. This class will be held on the ULM campus.
Maximize the value of your time by discovering various shortcuts and tricks for setting up spreadsheets efficiently in this hands-on, face-to-face course. This course will cover identifying parts of a worksheet, navigating, entering/editing data, basic formulas and functions, basic cell formatting, basic workbook/worksheet management, basic printing. This beginner level course will have you navigating through Excel in no time.
Textbook Required: Microsoft Excel 2016 Step by Step, ISBN: 978-0735698802 (not included)
Class may be cancelled due to low enrollment.
Would you like to be notified about the next opportunity to participate in this offering?