Certified Clinical Medical Assistant (CCMA) Voucher Included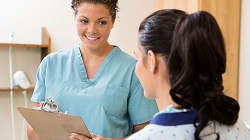 Certified Clinical Medical Assistant (CCMA) Voucher Included
Clinical medical assistants are skilled multi-taskers who help to maximize the producity of the healthcare team.
Medical assistants enable a healthcare facility to operate more efficiently, which increases revenue and provides a positive experience for patients.
In this course, you will learn medical terminology, medical law and ethics, HIPAA rules, scheduling systems, patient check-in and check-out, contents of a medical record, anatomy, pathophysiolgy, pharmacology, nutrition, phlebotomy theory, injections, and routine treatment and laboratory duites.
You will also learn medical terms and their application. You'll start by learning the origins of medcial words and how to recognize prefixes an suffixes used in medical terminology. Then, you'll learn about the body as a whole and how to differeniate cells, tissues, organs, systems, and cavities. Next, you'll learn to define and describe the function of each system of the human body. This knowledge will help you take the next step in your medical career or education.
You will be also able to take the Cetified Clinical Medical Assitant (CCMA) national certification exam offered by National Healthcareer Association (NHA). This course includes a voucher which covers the fee of the exam. Upon completion of the course, you will also have the opportunity to gain access to our Externship Starter Kit.
To register for this class:
1. Click the following link: www.ed2go.com/ulm.
2. Click on the "Add to Cart" button on the right side of the course web page and follow the directions.
To pay for this course:
1. Click on the register button below or call us at (318) 342-1030.
Would you like to be notified about the next opportunity to participate in this offering?