Canoe Outfitting & Guiding 101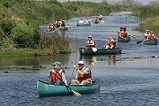 Canoe Outfitting & Guiding 101
A 2-Day Primer for Starting Your Own Small Business as a Canoe Guide and Rental Service.
The class will feature indoor and outdoor classroom opportunities to learn the basics of guiding and outfitting. Participants will learn:
How to start a small business dedicated to canoe guiding and outfitting.
Techniques to safely guide canoeists through our local bayous, rivers and lakes for supplemental income by a successful entrepreneur.
The many challenges and opportunities associated with a nature tourism business.
How to proceed in the pursuit of an outfitting business.
*aspects of this class are applicable to kayaks and paddleboards.
Who should attend?
Persons interested in the great outdoors and guiding people for supplemental income. *
*No previous canoe experience required, but must be comfortable in water settings, and must be capable of physical exertion including picking up half of the canoe (with another person) and loading on trailer.
Topics: During class time you will learn:
Overview of canoeing and kayaking.
How to start your own small business as outfitter and guide.
How to use business models to create your own business.
Administrative challenges involved in financing, taxes, and insurance.
How to market and promote your business.
Record keeping and other paperwork.
Safety requirements and gear.
How to teach the joy of canoe paddling to your clients including life jacket instruction, rescue procedures, and navigation skills.
All the practical skills needed as a guide.
About equipment considerations: purchase, storage, maintenance and transporting.
How to select canoes, paddles, life jackets, ropes, first aid kits, drybags and other essential river gear.
How to transport people, canoes and equipment.
The seven "Leave No Trace" principals.
Route planning.
The value of maps and guidebooks.
Record keeping.
Instructors: Business Owner John Ruskey (Quapaw Canoe Company); assisted by Mississippi River Guides Braxton Barden and Mark River.
Schedule: May 2-3, 2015, 9am-5pm, morning indoors session, afternoon outdoors sessions rain or shine.
Fee: $199/person includes all necessary canoeing gear (canoes & paddles, lifejackets, safety ropes, rescue ropes, and etc). Each participant will receive an introductory printed package for starting a small business in nature tourism.
You will need to provide the following:
For the indoor session provide:
A notebook for taking notes.
Pens or pencils for writing.
For outdoor sessions:
Dress for the weather.
Bring sun protection.
Pack 2 water bottles and snacks in small daypack or drybag.*
Wear shoes that can get wet and muddy.
*We will provide drybags for waterproof protection during water exercises.
Location:
Indoor Class: University of Louisiana at Monroe
Outdoor Class: Black Bayou Lake National Wildlife Refuge
Class Size: 3 Minimum, 12 Maximum
Currently there is no scheduled course offering.
Would you like to be notified about the next opportunity to participate in this offering?