Administrative Professional with Microsoft Office 2016 Master (With and Without Vouchers)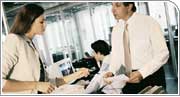 Administrative Professional with Microsoft Office 2016 Master (With and Without Vouchers)
Learn to be an integral part of any professional office team, from small businesses to major corporations.
What You'll Learn...
You will learn essential administrative skills, such as how to work in a modern professional office, personal and professional ethics, communication essentials, records and financial management, event and travel planning, working with different personality types, and business writing.
You will learn an advanced level in Microsoft Word, Excel, PowerPoint, and Outlook 2016 and be prepared to sit for the Microsoft Certification Exams 77-727 and 77-728 (Excel), 77-725 and 77-726 (Word), 77-729 (PowerPoint), and 77-731 (Outlook).
Prepares You For...
Careers:
Administrative Assistant
Receptionist
Executive Assistant
Department Secretary
Administrative Representative
To be a successful Administrative Professional, you must possess skills to handle a wide variety of workplace tasks and situations. The job of an Administrative Professional is a widely varied one and this course teaches across that variety of needed skills. Working with the four main Microsoft Office programs is also key to success in any workplace.
Microsoft Office 2016 skills are important to have in any profession or workplace. Being able to work with Office programs is a must in today's workplace whether you are preparing for an entry-level position or are an experienced professional. Developing skills and experience working with Microsoft Word, Excel, PowerPoint, and Outlook will allow you to do work independently and be a problem solver at your job.
The material is presented in a step-by-step manner, and you will learn by completing readings and hands-on exercises and watching video presentations. The course also includes quizzes and exams so you can test your skills at regular intervals throughout the material.

Through these methods, you will learn about the modern professional workplace, how to maintain your professional image, about time management, workplace behaviors and ethics, effective verbal and written communications, technology basics including working with computers and other workplace tools, record keeping and financial management basics, event planning and business travel basics, and career advancement and job searching skills. You will also learn essential introductory and advanced Office skills across Microsoft Office's Word, Excel, PowerPoint, and Outlook programs.
This program is entirely online and is completed at your own pace. When you register, you receive six (6) months to complete this program.
For more information about Administrative Professional with Microsoft Office 2016 please

Click Here

.
For more information about Administratie Professional with Microsoft Office 2016 (Vouchers Included) please

Click Here

.
Would you like to be notified about the next opportunity to participate in this offering?